The Rural Life Living Museum is a registered charity (289150) based in Tilford, Farnham. We are very grateful that people choose to support us in many different ways; from volunteering time to providing gifts. Gifts can be in various forms such as responding to an appeal, running activities to raise funds or leaving a legacy.
Please feel free to contact us if you are considering supporting us in this way.
Find Us on Facebook
@rurallifelivingmuseum
The Rustic Volunteers are our volunteer group who help us to maintain and develop the museum and its collection and help us with our extensive special events. They help us to carry out many of the 101 tasks which arise at the museum each week.
We are currently actively looking to recruit volunteers to help us in several areas including Live Interpretation, Conservation. Please see role descriptions below or for further information please contact info@rural-life.org.uk.
Historical Interpreters: Provide live interpretation by engaging with museum visitors about the museums collections.
Learning Volunteers : Assist in running and organizing the museum's busy learning programme.
Events Volunteers: To assist in the organisation and running of the museum's busy events programme.
Gardening: We are looking for volunteer gardeners to join our team to help maintain the site and our collections. We keep traditional war-time prefab gardens, relaxed woodland walks and an impressive collection of trees from all over the world.
How to become a Rustic Volunteer
Please download the application form, print and complete the form and send it to the Volunteer Co-ordinator at the Rural Life Living Museum, Reeds Road, Tilford, Farnham, Surrey, GU10 2DL.
We would like to thank the European Agricultural Fund for Rural Development for providing funding for the "Rebranding & Embracing Digital Technology" project which has enabled us to work to rebrand including the development of a new website, leaflets and other marketing materials and signage.
We would also like to say thank you to the following:
Aviva Fund
Billmeir Trust
Farnham South Street Trust
KBT
Surrey Gardens
Tilford Parochial Charity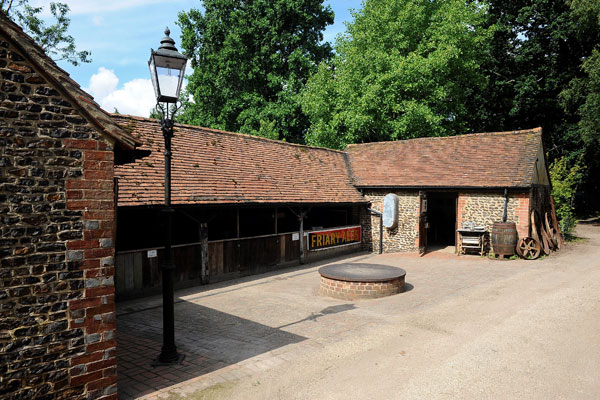 Leaving a Legacy
The founders of the museum left a legacy to enable their work to be continued and over the years, other people have also kindly remembered us in their wills. It is a very important form of support for which we are most grateful. If you would like to know more about leaving a legacy please contact the Director on 01252 795571 or email info@rural-life.org.uk.
Monetary Donations
Thank you for your interest in supporting the Rural Life Living Museum. We are an independent museum and a registered charity (289150) run by the Old Kiln Museum Trust. We do not receive any core funding; all of our general income goes towards the operational costs of running the museum. We are currently raising money to help us to develop our collection, undertake essential work to help us to care for the collection and improve the visitor experience. We would be most grateful for your support in helping us to continue our work. 
Projects that we are currently trying to raise funds for include:
1. Developing our Learning and Community Engagement programme
Our volunteer-run school and community learning programmes have been very popular, but the workload has increased and we now need to employ a learning officer to develop and broaden our offer and include other groups. We need to raise £25k to develop our learning programme.
Corporate sponsors or those interested in leaving a legacy are invited to contact us on 01252 795571
Donations of Objects/Artefacts
Thank you for your interest in donating your items to the museum. Our collection is based on the history of agriculture and rural life. We are in the process of updating many of our displays and we are currently actively looking to acquire:
Old toys in order to transform our nursery into a Victorian Toy Shop
Old cricket uniforms so that we can recreate the old changing room in the Cricket Pavilion.
If you have other items to donate, please get in touch with us using the form below with as much detail as possible and ideally a photo. Please be aware that due to limited storage capacity we are unable to take all items.