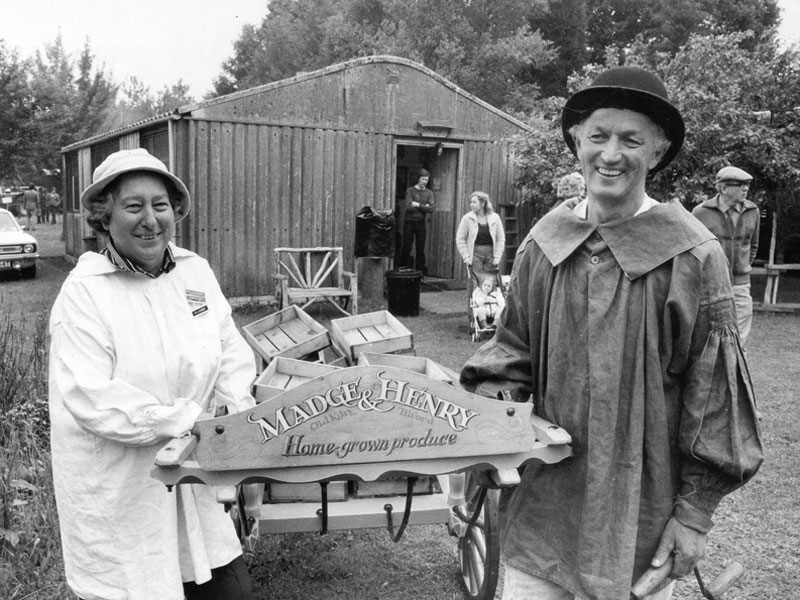 Henry & Madge's Creation – The Old Kiln Museum
Henry and Madge Jackson, the museum founders, were an inspirational couple. During WWII Henry had served with the Royal Marines characteristically volunteering for Special Service, which matched his determined and daring nature. Meanwhile Madge, who was a country girl, joined the Woman's Land Army in the Pest Control Section. In 1948 they were married locally and shortly afterwards moved nearby to the primitive "Old Kiln", a cottage now changed and modernised after much hard work. It can be seen adjacent to the museum grounds, near "Henry's Yard", the site of the original museum. Before that in about 1968 the couple unearthed a horse drawn plough in some woods at Waterlooville, Hampshire and with permission brought it home to use it as a garden ornament and so our story started.
Realising agricultural implements used by earlier generations were being lost and destroyed they visited farm sales and local auctions determined to save these historic artefacts. Other treasured possessions such as waggons, binders and hand tools were donated. From then on Henry and Madge became avid collectors. At this time Henry was Director at nearby Tilhill Tree Nurseries, which suited his life-long passion for trees. In 1953 Henry had planted the first tree on the site. The start of an arboretum, now a special feature of the museum.
The Growth of the Collection
Henry and Madge's friends suggested opening a museum. In 1973 it became the "Old Kiln Agricultural Museum", initially opening on Sundays only. This first venture in "Henry's Yard" utilized the disused farm yard buildings. Their treasured collection soon began to expand and grow reflecting their life stories and many interests, such as Forestry and Market Gardening. Today the museum has over 40,000 artefacts relating to agriculture and rural life which includes buildings. Initially, as many of the precious artefacts were displayed outside more undercover space was needed.
Henry, who had an imaginative talent for scrounging things, acquired an old post war Prefab from his previous employer. It had been used as a bonded warehouse for a tobacco growing experiment. Initially it housed a small shop and some early displays including Chemist's and Game Keeping artefacts. These are now displayed elsewhere in the museum. During the annual winter closure new buildings appeared, built with such things as old doors or a swimming pool cover, these have now been replaced by improved buildings.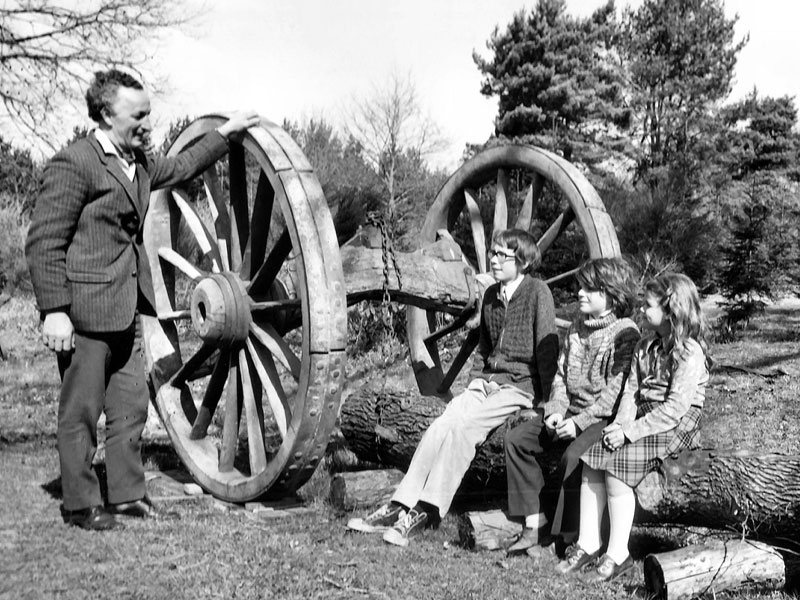 Henry, Madge and the museum helpers set up a Charitable Trust on 24th April, 1984, to ensure the future of their museum. It is  –  Old Kiln Museum CIO   charity number is 1200370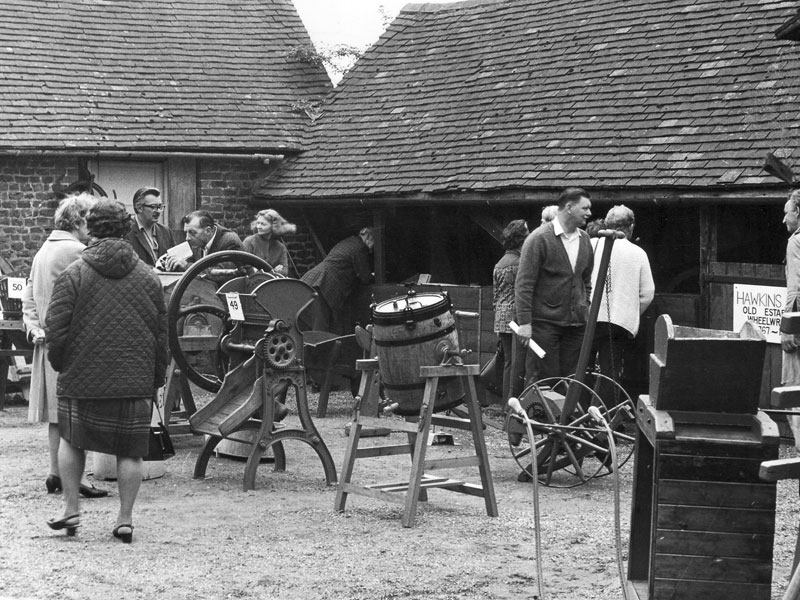 An Army of Volunteers
The museum has always relied heavily on loyal and hardworking volunteers. In 1990 this arrangement was formalized with the formation of the "Rustics", our support organisation.
As their health deteriorated and due to personal tragedy, both their children had pre- deceased them, the Old Kiln Museum Trust was formed in 1984 to secure the museum's future. At this time the name was changed to the "Rural Life Centre". From then on, the museum expanded with new buildings and exhibits all paid for by grants, events and the hard work and expertise of volunteers.
Sadly, Madge died in 2002 and Henry a few years later. It is thanks to their foresight and energy we have the museum you can visit today. The Rural Life Centre continued to flourish and in 2019 the museum was fortunate in obtaining funding towards building sustainability for the future. At this time the name changed again and became "The Rural Life Living Museum".
Henry always had an affinity for trees, and over the years he planted many different types. We still have tree walks, which introduce visitors to the many and varied species at the museum. Henry himself chose a particular species, Ginkgo Bilboa (Maidenhair Tree) for planting in his memory. See if you can find it – or join in with one of our walks.
Read More
Far more detailed information of the lives and achievements of Madge and Henry can be read in Madge's booklet "The birth of a Museum", which is available from the Museum Shop.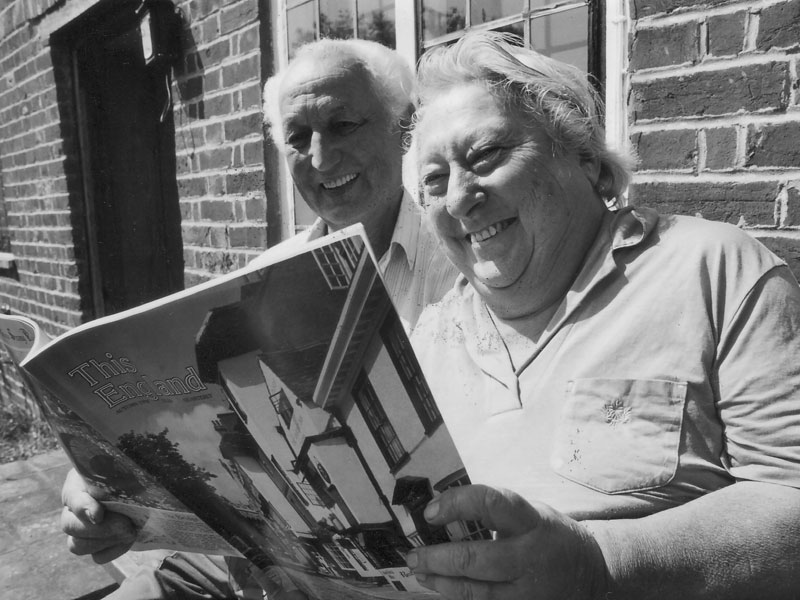 2018 Dorothea Restoration Award from the Association for Industrial Archaeology for the Restoration of the Frimley Green Cycle Shop
2017 Surrey Industrial Heritage Group Farnham heritage
2015 Queen's Award for Voluntary Service
2009 Marsh Trust Award for Museum Learning
2000 Interpret Surrey Award
1999 Rotary Club Community Award for Outstanding Contribution to the Community
1998 Silver Cross of St George Awarded to Henry and Madge Jackson by This England Magazine
1997 Pride of Place Award
1988 Surrey Industrial Heritage Group Conservation Award for the Granary from Borelli Yard in Farnham